Abecední index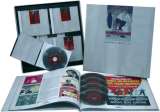 Typ zboží: Hudba
Nosič: (5)
Vydavatel: Bear Family
Vydáno: 5.5.1999
EAN/UPC: 4000127162854
Objednací kód: 351374
Běžná cena: 4009 Kč
Naše cena: 3608 Kč (vč. DPH)
Ušetříte: 401 Kč (10%)

katalogové číslo: FI 16285
původ: import (EU)
interpret: Ray Johnnie
5-CD Box (LP-Format) mit 84-seitigem gebundenem Buch, 129 Einzeltitel, Spieldauer 348:10 Minuten.
This is the first of two Bear Family sets that chronicle Johnnie Ray's remarkable, epochal career. One of the greatest and most charismatic entertainers in American popular music, Johnnie Ray was not only one of the godfathers of rock 'n' roll but one of the most distinctive interpreters of the classic popular song. He took the drama of R&B, the feel of jazz, a taste of country, and some of the greatest songs of the era to carve out a unique niche in American popular music. And, as the accompanying book confirms, he did this while wrestling with deafness, alcoholism and sexual identity problems.
The five CDs in this set comprise everything that Johnnie Ray recorded for Columbia Records and its subsidiaries between 1951 and 1956, including his breakthrough hit, Cry, as well as Top 10 chartbusters like Walkin' My Baby Back Home, The Little White Cloud That Cried, Please Mister Sun, Somebody Stole My Gal, Such A Night, and Just Walkin' In The Rain. This set also includes his duets with Doris Day and Frankie Laine, all of his fabulously rare early albums, and several previously unissued masters. The fifth CD comprises two live albums, one recorded in England in 1954 and another recorded in Las Vegas in 1957, plus the soundtrack recordings from 'There's No Business Like Show Business'.
Johnnie Ray's music was daring, innovative, blues-drenched, and dramatic in the early Fifties, and is as electrifying nearly fifty years later.
This set offers conclusive proof that he was the consummate, natural born entertainer.
Also included is a 84-page book with a newly researched biography by Jonny Whiteside and many unpublished photos from the apex of Johnnie Ray's remarkable and singular career.
Potřebujete podrobnější informace k tomuto titulu?
Napište nám
.
Seznam skladeb
| | |
| --- | --- |
| 1. | Whiskey And Gin |
| 2. | Tell The Lady I Said Goodbye |
| 3. | She Didn't Say Nothin' At All |
| 4. | I'm Just A Shadow Of Myself |
| 5. | Give Me Time |
| 6. | The Little White Cloud That Cried |
| 7. | Coffee And Cigarettes(Thinkin' It Over) |
| 8. | The Lady Drinks Champagne |
| 9. | Cry |
| 10. | Out In The Cold Again |
| 11. | Please Mr Sun |
| 12. | (Here Am I) Broken Hearted |
| 13. | Paths Of Paradise |
| 14. | Mountains In The Moonlight |
| 15. | Walkin' My Baby Back Home |
| 16. | All Of Me |
| 17. | Don't Take Your Love From Me |
| 18. | Don't Blame Me |
| 19. | What's The Use? |
| 20. | Gee But I'm Lonesome |
| 21. | A Sinner Am I |
| 22. | I'll Never Fall In Love Again |
| 23. | Faith Can Move Mountains |
| 24. | Don't Say Love Has Ended |
| 25. | Love Me (Baby Can't You Love Me |
| 26. | Cd 2: |
| 27. | Mister Midnight |
| 28. | Please Don't Talk About Me When I'm Gone |
| 29. | All I Do Is Dream Of You |
| 30. | Nobody's Sweetheart |
| 31. | I Can't Escape From You |
| 32. | Somebody Stole My Gal |
| 33. | Satisfied |
| 34. | I'm Gonna Walk & Talk With My Lord |
| 35. | With These Hands |
| 36. | The Touch Of God's Hand |
| 37. | It's The Talk Of The Town |
| 38. | Ma Says Pa Says (&doris Day) |
| 39. | A Full Time Job(&doris Day) |
| 40. | Glad Rag Doll |
| 41. | Oh What A Sad Sad Day |
| 42. | Sweet Evening Breeze |
| 43. | She Didn't Say Nothin' At All |
| 44. | Tell The Lady I Said Goodbye |
| 45. | Whiskey And Gin |
| 46. | An Orchid For The Lady |
| 47. | Let's Walk That A Way(& Doris Day) |
| 48. | Candy Lips(& Doris Day) |
| 49. | The Others I Like |
| | |
| --- | --- |
| 50. | Destiny |
| 51. | Why Should I Be Sorry? |
| 52. | As Time Goes By |
| 53. | You'd Be Surprised |
| 54. | Cd 3: |
| 55. | Such A Night |
| 56. | To Ev'ry Girl To Ev'ry Boy |
| 57. | Hey There |
| 58. | Hernando's Hideaway |
| 59. | Going Going Gone |
| 60. | If You Believe |
| 61. | Alexander's Ragtime Band |
| 62. | The Only Girl I'll Ever Love |
| 63. | Thine Eyes Are As The Eyes Of A Dove |
| 64. | Papa Loves Mabo |
| 65. | Paths Of Paradise |
| 66. | Parade Of Broken Hearts |
| 67. | Ooh! Aah!Oh!(This Is Love) |
| 68. | Flip Flop And Fly |
| 69. | Why Does Your Daddy Have To Go? |
| 70. | Taking A Chance On Love |
| 71. | My Love For You |
| 72. | Song Of The Dreamer |
| 73. | I've Got So Many Million Years |
| 74. | A Heart Comes In Handy |
| 75. | Johnnie's Comin' Home |
| 76. | Who's Sorry Now? |
| 77. | Love Love Love |
| 78. | Goodbye Au Revoir Adios |
| 79. | Because I Love Her |
| 80. | Walk Along With Kings |
| 81. | Ain't Misbehavin' |
| 82. | Cd 4: |
| 83. | If I Had You |
| 84. | In The Candlelight |
| 85. | Look Homeward Angel |
| 86. | Weaker Than Wise |
| 87. | Just Walking In The Rain |
| 88. | Up Above My Head(& Frankie Laine) |
| 89. | Good Evening Friends (& Frankie Laine) |
| 90. | How Long How Long Blues |
| 91. | You Don't Owe Me A Thing |
| 92. | No Wedding Today |
| 93. | Trouble In Mind |
| 94. | I Want To Be Loved(But Only By You) |
| 95. | I Miss You So |
| 96. | Everyday (Everyday I Have The Blues |
| 97. | I'm Gonna Move To The Outskirts Of Town |
| 98. | Sent For You Yesterday |

Hlídací pes - zasílání novinek:
Přehled všech Vámi zadaných položek naleznete zde
Nejbližší tituly v katalogu:

Vydavatel: 
Bear Family
 | Vydáno:
5.5.1999

Cena:
521 Kč


Vydavatel: 
Bear Family
 | Vydáno:
5.5.1999

Cena:
2582 Kč