Abecední index



























Frizzell Lefty - An Article From Life - The Complete Recordings (Box 20CD+Book)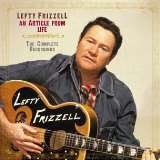 Typ zboží: Hudba
Nosič: (20)
Vydavatel: Bear Family
Vydáno: 19.10.2018
EAN/UPC: 5397102175404
Objednací kód: 2756129
Běžná cena: 7851 Kč
Naše cena: 7066 Kč (vč. DPH)
Ušetříte: 785 Kč (10%)

katalogové číslo: BCD 17540
původ: import (USA)
interpret: Frizzell Lefty
Who was the greatest Country singer of all time? Some might say Merle Haggard, but Merle disagreed. ''There's no way I can describe the effect Lefty Frizzell had,'' Merle told us. ''The soul of Hank Williams, the appeal of Johnny Cash and the charisma of Elvis Presley. He had it all. He was dressed all in white - heroes usually are. The impact he had on Country Music, and on me is not even measurable.'' George Jones began his career almost as a Lefty tribute act. Much of Willie Nelson's phrasing comes from Lefty Frizzell. When Roy Orbison joined the Traveling Wilburys, it was as Lefty Wilbury. Lefty's songs brought newfound poetry to Country music. Lefty Frizzell's influence is incalculable.

This is a little history, this is the truly definitive set of the most influential singer in Country music history! All the hits, including If You've Got The Money, Always Late, Long Black Veil, I Love You A Thousand Ways, and thirty-five more! Every 45, 78, and LP track from Lefty's entire career. Every unissued session recording!
Potřebujete podrobnější informace k tomuto titulu?
Napište nám
.
Seznam skladeb
| | |
| --- | --- |
| 1. | I Love You A Thousand Ways |
| 2. | If You've Got The Money, I've Got The Time |
| 3. | Shine, Shave, Shower (it's Saturday) |
| 4. | Cold Feet |
| 5. | Don't Think It Ain't Been Fun Dear |
| 6. | When Payday Comes Around |
| 7. | My Baby's Just Like Money |
| 8. | Look What Thoughts Will Do |
| 9. | My Baby's Just Like Money |
| 10. | You Want Everything But Me |
| 11. | I Want To Be With You Always |
| 12. | Give Me More, More, More (of Your Kisses) |
| 13. | How Long Will It Take (to Stop Loving You) |
| 14. | Always Late (with Your Kisses) |
| 15. | Mom And Dad's Waltz |
| 16. | You Can Go On Your Way Now |
| 17. | Treasure Untold |
| 18. | Blue Yodel #6 |
| 19. | Travellin' Blues |
| 20. | My Old Pal |
| 21. | Blue Yodel, #2 |
| 22. | Lullaby Yodel |
| 23. | Brakeman's Blues |
| 24. | My Rough And Rowdy Ways |
| 25. | I Love You (though You're No Good) |
| 26. | It's Just You (i Could Love Always) |
| 27. | (darling Now) You're Here So Everything's Alright |
| 28. | I've Got Reasons To Hate You |
| 1. | I Love You (though You're No Good) |
| 2. | Don't Stay Away (till Love Grows Cold) |
| 3. | It's Just You (i Could Love Always) |
| 4. | (darling Now) You're Here So Everything's Alright |
| 5. | If You Can Spare The Time (i Won't Miss The Money) |
| 6. | A King Without A Queen |
| 7. | Forever (and Always) |
| 8. | I Know You're Lonesome (while Waiting For Me) |
| 9. | Lost Love Blues |
| 10. | That's Me Without You |
| 11. | Send Her Here To Be Mine |
| 12. | Lost Love Blues |
| 13. | That's Me Without You |
| 14. | I Won't Be Good For Nothin' |
| 15. | If I Lose You (i'll Lose My World) |
| 16. | I'm An Old Old Man (tryin' To Love While I Can) |
| 17. | You're Just Mine (only In My Dreams) |
| 18. | I'll Try |
| 19. | (honey, Baby, Hurry) Bring Your Sweet Self Back To Me |
| 20. | Time Changes Things |
| 21. | All Of Me Loves All Of You |
| 22. | California Blues (blue Yodel, #4) |
| 23. | Never No' Mo' Blues |
| 24. | We Crucified Our Jesus |
| 25. | When It Comes To Measuring Love |
| 26. | Sleep Baby Sleep |
| 27. | (i'm) Lonely And Blue |
| 1. | Before You Go, Make Sure You Know |
| 2. | Two Friends Of Mine In Love |
| 3. | Hopeless Love |
| 4. | Then I'll Come Back To You |
| 5. | The Tragic Letter (the Letter That You Left) (& Wayne Raney) |
| 6. | Two Hearts Broken Now (& Wayne Raney) |
| 7. | You Can Always Count On Me (& Wayne Raney) |
| 8. | I've Been Away Way Too Long (& Wayne Raney) |
| 9. | Run `em Off |
| 10. | The Darkest Moment (is Just Before The Light Of Day) |
| 11. | You're Too Late |
| 12. | My Little Her And Him |
| 13. | I Love You Mostly |
| 14. | You're There, I'm Here |
| 15. | Let It Be So |
| 16. | Mama! |
| 17. | Making Believe |
| 18. | Moonlight, Darling And You |
| 19. | I'll Sit Alone And Cry |
| 20. | A Forest |
| 21. | Fire (is In Your Heart) |
| 22. | Sweet Lies |
| 23. | Your Tomorrows Will Never Come |
| 24. | It Gets Late So Early |
| 25. | I'm Lost Between Right And Wrong |
| 26. | Promises |
| 27. | Promises, Promises) |
| 28. | Today Is That Tomorrow (i Dreamed Of Yesterday) |
| 29. | My Love And Baby's Gone |
| 30. | First To Have A Second Chance |
| 1. | These Hands |
| 2. | You Can't Divorce My Heart |
| 3. | Treat Her Right |
| 4. | Heart's Highway |
| 5. | I'm A Boy Left Alone |
| 6. | Just Can't Live That Fast (anymore) |
| 7. | The Waltz Of The Angels |
| 8. | Lullaby Waltz |
| 9. | Glad I Found You |
| 10. | Now That You Are Gone |
| 11. | From An Angel To A Devil |
| 12. | Lover By Appointment (& Johnny Bond) |
| 13. | Sick, Sober And Sorry (& Johnny Bond) |
| 14. | No One To Talk To (but The Blues) (& Shirley Caddell) |
| 15. | Is It Only That You're Lonely |
| 16. | Mailman Bring Me No More Blues |
| 17. | You've Still Got It |
| 18. | Tell Me Dear |
| 19. | To Stop Loving You (means Cry) |
| 20. | The Torch Within My Heart |
| 21. | Time Out For The Blues |
| 22. | I Love You A Thousand Ways |
| 23. | If You've Got The Money I've Got The Time |
| 24. | I Want To Be With You Always |
| 25. | Mom And Dad's Waltz |
| 26. | (darling) Let's Turn Back The Years |
| 27. | You Win Again |
| 28. | Why Should I Be Lonely |
| 29. | Signed, Sealed And Delivered |
| 30. | Nobody Knows But Me |
| 1. | If You're Ever Lonely Darling |
| 2. | Silence |
| 3. | Release Me |
| 4. | Our Love's No Bluff |
| 5. | You're Humbuggin' Me |
| 6. | She's Gone |
| 7. | Cigarettes And Coffee Blues |
| 8. | I Need Your Love |
| 9. | My Bucket's Got A Hole In It |
| 10. | I Love You A Thousand Ways |
| 11. | If You've Got The Money, I've Got The Time |
| 12. | Mom And Dad's Waltz |
| 13. | I Want To Be With You Always |
| 14. | Always Late (with Your Kisses) |
| 15. | If You're Ever Lonely Darling |
| 16. | Sin Will Be The Chaser For The Wine |
| 17. | Knock Again, True Love |
| 18. | The Long Black Veil |
| 19. | One Has-Been To Another |
| 20. | Farther Than My Eyes Can See |
| 21. | My Blues Will Pass |
| 22. | Ballad Of The Blue And Grey |
| 23. | That's All I Can Remember |
| 24. | So What! Let It Rain |
| 25. | What You Gonna Do, Leroy? |
| 26. | I Feel Sorry For Me |
| 27. | Heaven's Plan |
| 28. | Looking For You |
| 1. | Stranger |
| 2. | A Few Steps Away |
| 3. | Forbidden Lovers |
| 4. | Just Passing Through |
| 5. | That Reminds Me Of Me |
| 6. | Don't Let Her See Me Cry |
| 7. | Through The Eyes Of A Fool |
| 8. | James River |
| 9. | Preview Of Coming Attractions |
| 10. | Lonely Heart |
| 11. | What Good Did You Get (out Of Breaking My Heart) |
| 12. | When It Rains The Blues |
| 13. | I'm Not The Man I'm Supposed To Be |
| 14. | Saginaw Michigan |
| 15. | There's No Food In This House |
| 16. | The Rider |
| 17. | The Nester |
| 18. | I Was Coming Home To You |
| 19. | Hello To Him (goodbye To Me) |
| 20. | I Can Tell |
| 21. | Make That One For The Road A Cup Of Coffee |
| 22. | 'gator Hollow |
| 23. | It Costs Too Much To Die |
| 24. | She's Gone, Gone, Gone |
| 25. | Running Into Memories Of You |
| 26. | Confused |
| 27. | How Far Down Can I Go |
| 1. | It's Bad (when It's Thataway) |
| 2. | I Don't Trust You Anymore |
| 3. | A Little Unfair |
| 4. | Woman Let Me Sing You A Song |
| 5. | Preparations To Be Blue |
| 6. | Stranger |
| 7. | Love Looks Good On You |
| 8. | Mama |
| 9. | It's Hard To Please You |
| 10. | You Don't Want Me To Get Well |
| 11. | Writing On The Wall |
| 12. | I Just Couldn't See The Forest |
| | |
| --- | --- |
| 13. | For The Trees) |
| 14. | I'm Not Guilty |
| 15. | It Couldn't Happen To A Nicer Guy |
| 16. | Everything Keeps Coming Back (but You) |
| 17. | Heart (don't Love Her Anymore) |
| 18. | You Don't Have To Be Present To Win |
| 19. | My Feet Are Getting Cold |
| 20. | Is There Anything I Can Do |
| 21. | The Old Gang's Gone |
| 22. | A Song From A Lonely Heart |
| 23. | You Gotta Me Puttin' Me On |
| 24. | There In The Mirror |
| 25. | Get This Stranger Out Of Me |
| 26. | Money Tree |
| 27. | Hobo's Pride |
| 1. | When The Rooster Leaves The Yard |
| 2. | Anything You Can Spare |
| 3. | Only Way To Fly (original Vocal) |
| 4. | Only Way To Fly (laughing Version) |
| 5. | A Prayer On Your Lips Is Like Freedom In Your Hands |
| 6. | Little Old Winedrinker Me |
| 7. | A Word Or Two To Mary |
| 8. | Almost Persuaded |
| 9. | Have You Ever Been Untrue (& June Stearns) |
| 10. | If You've Got The Money, I've Got The Time (& June Stearns) |
| 11. | When The Grass Grows Green Again |
| 12. | The Marriage Bit |
| 13. | I'll Remember You |
| 14. | Wasted Way Of Life |
| 15. | Keep Them Flowers Watered While I'm Gone |
| 16. | An Article From Life (with Chorus) |
| 17. | Blind Street Singer |
| 18. | Honky Tonk Hill |
| 19. | My Baby Is A Tramp |
| 20. | She Brought Love Sweet Love |
| 21. | Watermelon Time In Georgia |
| 22. | I Must Be Getting Over You |
| 23. | Out Of You |
| 24. | It's Raining All Over The World |
| 25. | There's Something Lonely In This House |
| 26. | Three Cheers For The Good Guys |
| 27. | An Article From Life (without Chorus) |
| 28. | Honky Tonk Hill (without Overdub) |
| 1. | Honky Tonk Stardust Cowboy |
| 2. | What Am I Gonna Do |
| 3. | Give Me More, More, More (of Your Kisses) |
| 4. | You Babe |
| 5. | This Just Ain't A Good Day For Leavin' |
| 6. | Down By The Railroad Track |
| 7. | Let Me Give Her The Flowers |
| 8. | If I Had Half The Sense (a Fool Was Born With) |
| 9. | Somebody's Words |
| 10. | Lucky Arms |
| 11. | True Love Needs To Be In Touch |
| 12. | My House Is Your Honky Tonk |
| 13. | I Buy The Wine |
| 14. | If She Just Helps Me To Get Over You |
| 15. | Falling |
| 16. | Railroad Lady |
| 17. | I Can't Get Over You To Save My Life |
| 18. | I Never Go Around Mirrors (i've Got A Heartache To Hide) |
| 19. | That's The Way Love Goes |
| 20. | She Found The Key |
| 21. | I Wonder Who's Building The Bridge |
| 22. | My Wishing Room |
| 23. | I'm Gonna Hang Out My Mind Today |
| 24. | Sittin' And Thinkin' |
| 25. | I Love You A Thousand Ways |
| 26. | I'm Not That Good At Goodbye |
| 27. | Yesterday Just Passed My Way Again |
| 28. | Life's Like Poetry |
| 1. | I Hope You're Not Lonely When I'm Gone |
| 2. | Darling I'm Missing You (please Belive Me) |
| 3. | I'll Never Cry Over You |
| 4. | My Confession |
| 5. | Intro |
| 6. | My Baby And My Wife |
| 7. | It's All Over Now |
| 8. | Worried Mind |
| 9. | You May Have Your Picture |
| 10. | I Ain't Goin' Honky-Tonkin' Anymore |
| 11. | Maiden's Prayer |
| 12. | I'm Wasting My Life Away |
| 13. | You Nearly Lose Your Mind |
| 14. | I'll Always Be Glad To Take You Back |
| 15. | My Old Pal Of Yesterday |
| 16. | Jimmie The Kid |
| 17. | California Blues |
| 18. | Mean Mama Blues |
| 19. | I'll Be A Bachelor `til I Die |
| 20. | I'm A Long Gone Daddy |
| 21. | Yesterday's Mail |
| 22. | Last Night I Heard You Crying In Your Sleep |
| 23. | There'll Be No Teardrops Tonight |
| 24. | I Love You A Thousand Ways |
| 25. | If You're Ever Lonely Darling |
| 26. | Lost Love Blues |
| 27. | If You're Ever Lonely Darling |
| 28. | I Love You A Thousand Ways |
| 29. | Please Be Mine, Dear Blue Eyes |
| 30. | I'm Yours If You Want Me |
| 31. | Lost Love Blues |
| 32. | If You've Got The Money |
| 33. | Lost Love Blues |
| 34. | Steppin' Out (take 1) |
| 35. | Steppin' Out (take 2) |
| 36. | Always In Love |
| 1. | Don't Stay Away (till Love Grows Cold) (take 1) |
| 2. | Don't Stay Away (till Love Grows Cold) (take 2) |
| 3. | You Have Never Been Known To Be Wrong |
| 4. | Why Didn't You Tell Me Our Love Was Wrong |
| 5. | Why Didn't You Tell Me Our Love Was Wrong |
| 6. | Forever (and Always) |
| 7. | Blue Yodel #6 |
| 8. | I Love You So |
| 9. | Just Little Things Like That |
| 10. | You're The Reason Why I'm In Mysery |
| 11. | I Won't Be Good For Nothin' (take 1) |
| 12. | I Won't Be Good For Nothin' (take 2) |
| 13. | I Won't Be Good For Nothin' (take 3) |
| 14. | Backdoor Boogie |
| 15. | She's Every Little Thing Rolled Into One |
| 16. | I Love Yo Mostly |
| 17. | Believe Me (it's True) |
| 18. | My Little Her And Him |
| 19. | I Just Can't Live That Fast Anymore (take 1) |
| 20. | I Just Can't Live That Fast Anymore (take 2) |
| 21. | I'll Make It Up To You |
| 22. | It's Hard To Please You |
| 23. | Too Much Love |
| 24. | My Abandoned Heart |
| 25. | Wait Till I'm Asleep |
| 26. | Not This Time (take 1) |
| 27. | Not This Time (take 2) |
| 28. | Intro 'take Five #1 |
| 29. | If You've Got The Money |
| 30. | I Want To Be With You Always |
| 31. | Intro 'take Five #2 |
| 32. | My Bucket's Got A Hole In It |
| 33. | Always Late |
| 34. | Intro 'take Five #3 |
| 35. | Make That One For The Road A Cup Of Coffee |
| 36. | Mom And Dad's Waltz |
| 37. | Interview With Frank Jones |
| 1. | Intro 'country Music Time #5 |
| 2. | If You've Got The Money |
| 3. | Look What Thoughts Will Do |
| 4. | Shine, Shave, Shower (it's Saturday) |
| 5. | I Want To Be With You Always |
| 6. | My Baby's Just Like Money |
| 7. | If You've Got The Money |
| 8. | Intro 'country Music Time #9 |
| 9. | If You've Got The Money |
| 10. | Why Should I Be Lonely |
| 11. | Ida Red Boogie |
| 12. | I Love You A Thousand Ways |
| 13. | Always Late |
| 14. | If You've Got The Money |
| 15. | Intro 'country Music Time #14 |
| 16. | If You've Got The Money |
| 17. | Sunday Down In Tennessee |
| 18. | King Without A Queen |
| 19. | Mom And Dad's Waltz |
| 20. | Travelin' Blues |
| 21. | If You've Got The Money |
| 22. | Intro |
| 23. | 'country Music Time #144 |
| 24. | Cigarettes And Coffee Blues |
| 25. | The Long Black Veil |
| 26. | Chain Gang |
| 27. | Desert Blues |
| 28. | Intro 'country Music Time #296 |
| 29. | Cigarettes And Coffee Blues |
| 30. | (darling) Let's Turn Back The Years |
| 31. | Things |
| 32. | Woodchopper's Ball |
| 33. | I Want To Be With You Always |
| 34. | Stay All Night, Stay A Little Longer |
| 35. | Somebody's Pushin' |
| 36. | The Long Black Veil |
| 37. | Mona Lisa |
| 38. | I Want To Be With You Always |

Hlídací pes - zasílání novinek:
Přehled všech Vámi zadaných položek naleznete zde

Vydavatel: 
Primo
 | Vydáno:
27.4.2015

Cena:
191 Kč

Nejbližší tituly v katalogu:

Vydavatel: 
Small Stone
 | Vydáno:
19.10.2018

Cena:
633 Kč
CD



Vydavatel: 
Sra Records
 | Vydáno:
19.10.2018

Cena:
1020 Kč